Entry Info
Winning Impact
6th EDITION
MARCH 20 & 21
2023
St. Mary's
LONDON
2023 Winners
London
March 20 & 21
Announced
About The Organizer:
The London Beer Competition is an international beer competition organized by Beverage Trade Network.
Learn More
Winning competitions is what determines your pace in this competitive world. And more so for such a competitive industry. There are so many beer brands competing with each other for the front row seats on a shelf, where they are the first ones visible to the customers. In such a scenario, winning a medal can act as one of your most powerful marketing tools as well as a selling point.
You can use your winning medal stickers on your brand support tools also. Some of the best places to showcase your London Beer Competition medal would be:
Brand Deck

Sell Sheet

Shelf Talkers

Case Cards

Bottle Neckers
Marketing Tools by London Beer Competition
But wait, there's more than winning a medal at the London Beer Competition can do for you. This is how a London Beer Competition medal will help you in creating a classy impression on the beer market in the UK:
Results to go to 50,000+ trade professionals in the UK in the Beverage Trade Network community
News of your victory will reach the right ears, or should we say, the right eyes around the world via the Beverage Trade Network (BTN) community which consists of high-profile buyers who are on the look-out to add new beer brands to their profiles and portfolios.
Results will get press awareness among media partners of the London Beer Competition and will be posted on BTN news and Bevroute News
Our media partners, BTN and BevRoute will provide extensive coverage in their press as well as social media. Let your beer brand shine in a global spotlight with year-long social media support, targeted for the UK buyers of beer.
Results to go to 20,000+ Buyers of UK
Yes, we will also be sending the results to around 20000+ buyers in and around the UK. We believe that buyers are the real experts who are directly involved in the development of new beer brands or buying beer for commercial resale.
All-Year-Round Social Media
Winners get year-round social media support along with the press support from the London Beer Competition as well as our media partners BTN and BevRoute
Free shelf-talkers, certificates, professional tasting notes, and more.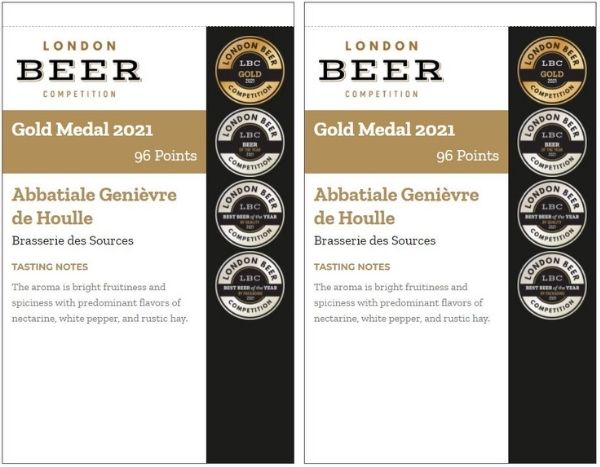 Winners may download digital medals and order medal stickers for their beer bottles. Get professional tasting notes and shelf talker templates for no additional charge.
These shelf talkers are ready to print and be used as POS for your brands. You will also be able to download and print the medal certificate for your winning product.
Top 100 winners at LBC will be included in the Top 100 On-Premise & Off-Premise beer list - Top 100 LBC Beers
Top 100 LBC Beers is the list curated and picked up by top-level buyers who assess beer brands on the basis of their quality and other aspects at London Beer Competition. Top 100 winners are showcased here.
Free first 1000 medal stickers added to your sticker order
On every winner's first medal sticker purchase, other 1000 medal stickers will be added as a gift. These stickers are the mark of beer's supreme quality.
Key Dates:
Warehouse Opens: 01 October 2022
Warehouse Closes: 08 March 2023
Registration Ends: 28 February 2023
Judging Date: 20 & 21 March 2023
Winners Announced:12 April 2023
Fee Schedule:
£100 Regular - From Now to Feb 28th, 2023 (Submission closed)