2023 Winners
London
March 20 & 21
Announced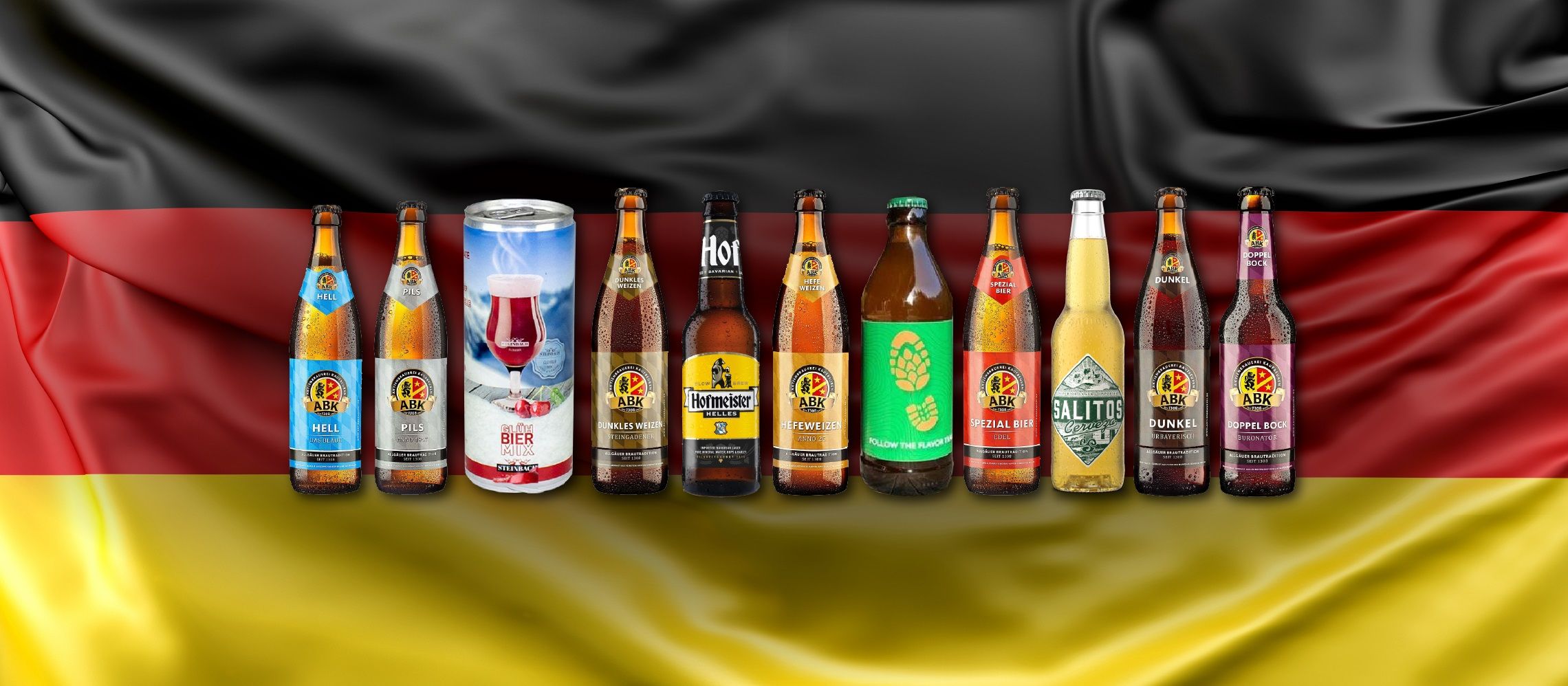 11 German Beers To Make Your Thirst Worthwhile
Here are 11 German beers that took the responsibility to carry on with the title of world's best Beer producer and we have to tell you they stood on it well.
Germany has been known for its quality in beer for a long time now and well do we have more testimonials to present to back that and as we all know the mouth filled with beer is the mouth that is the happiest and when its German its always is going to be an experience to not miss out on and to get a better understanding of what we are stating the following are the beers that deserved to be tried once to know about what all the buzz is about.
These beers underwent a process of evaluation in 3 segments that are taste, value for money, and packaging only to come out as winners. Here are 11 German beers that took the responsibility to carry on with the title of world's best beer producer and we have to tell you they stood on it well.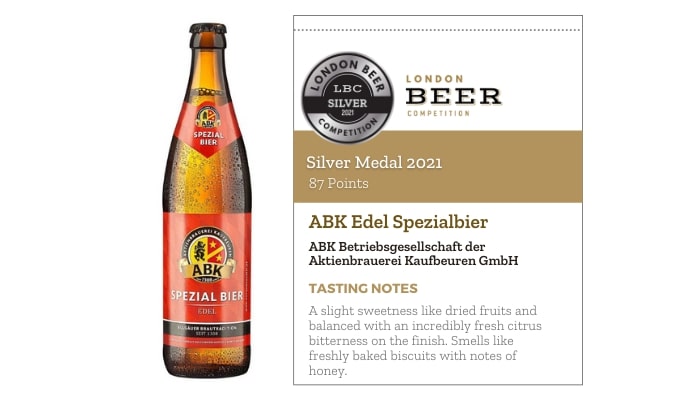 This one's for you if you like a little pillowy head with an essence of more malt in the beer with deep gold colour packed in a bottle, yes this drink is for your thirst for exploring new flavours. Golden hints on a pale straw colour with white velvety froth with a tendency to reduce to a light lacing. The nose of the Edel is usually biscuit sweet with hops to give you a freshly brewed aroma with a touch of sweet apples. The aftertaste of the beer has a slight angle of buttery finish and toasted malts, something to drink easily for a fresh crisp. To sum it all up, here's something you've been looking for a long time to calm your search for a beer of all occasions.
Tasting notes: A slight sweetness like dried fruits and balanced with an incredibly fresh citrus bitterness on the finish. Smells like freshly baked biscuits with notes of honey. In addition to the good things about the ABK Edel Spezialbier, it also has bagged a medal in the London Beer Competition to make you realize when we say it's a must-try, we mean it.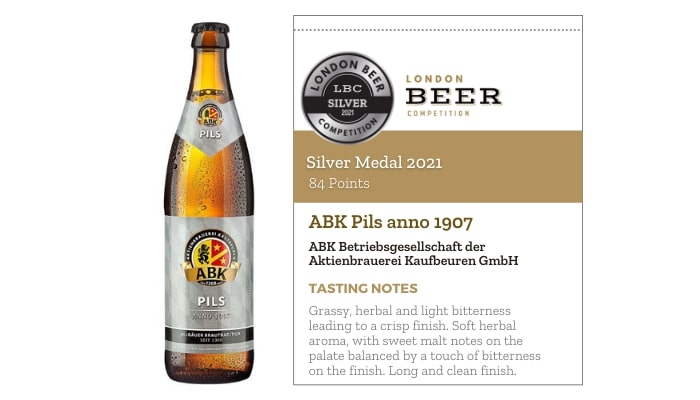 This German beverage has its own ways to get subtly settled with your taste with an aroma that's malty, herbal with a touch of hay, buckwheats, grasses, and grains with a clear aftertaste that adds a little bitter-sweetness to the entire experience, with a combination of flavours that explode right after consumption. In all addition, the drink is a pleasant anytime experience that's carrying the legacy of the German beers effortlessly.
Tasting notes: Grassy, herbal and light bitterness leading to a crisp finish. Soft herbal aroma, with sweet malt notes on the palate balanced by a touch of bitterness on the finish. Long and clean finish.
The ABK Pils anno 1907 claimed a medal in the London Beer Competition too, and so makes it clear that it has been successfully delivering on the German beer legacy.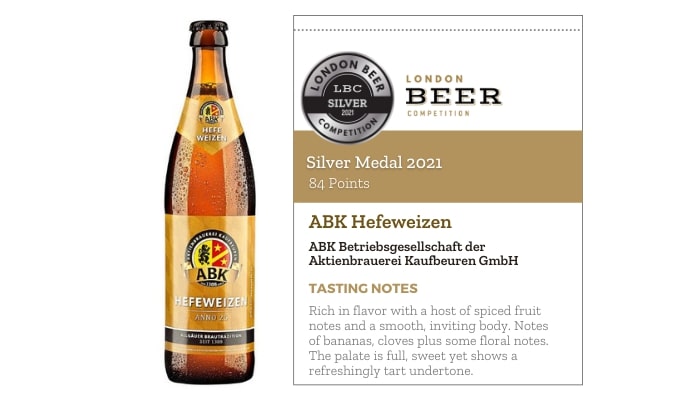 A cloudy smooth top-fermented aroma that has a hint of fruits and lively flavours that give an explosion of the essence of full-bodied beer and a very satellite hint of honey. The strong generation of foam on this wheat beer has natural yeast cloudiness because of its sediment that gives you an experience of easy-drinking filled with floral touches. In a much subtle sense, it's your go-to drink for all times and of course, a must-try with its unique flavours, it has also been responsible for the German beer quality.
Tasting notes: Rich in flavour with a host of spiced fruit notes and a smooth, inviting body. Notes of bananas, cloves plus some floral notes. The palate is full, sweet yet shows a refreshingly tart undertone.
Apart from its exceptionally good quality and taste ABK Hefeweizen also made it through with a medal in the London Beer competition, to establish itself in the list of quality beer.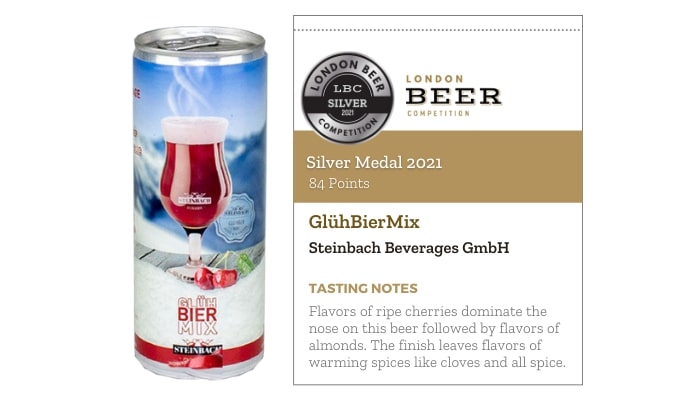 To reach the 7th heaven, you have to have aromatic heights to push you to an experience that grabs you in the first interaction, we thought this was the right way to put how the beer catches you in the first go and there's no other way to say that it's a must-try and has to be considered with its charm that consists of a creamy mouthfeel and a soft head. Its carbonic acid nitrogen release is the reason why it contains the explosion of flavours for an amazing aftertaste finish.
Tasting notes: Flavors of ripe cherries dominate the nose of this beer followed by flavours of almonds. The finish leaves flavours of warming spices like cloves and allspice.
The GlühBierMix bagged a medal for its extremely well-balanced taste and is the reason why we think being thirsty for a good German beer is worth the wait.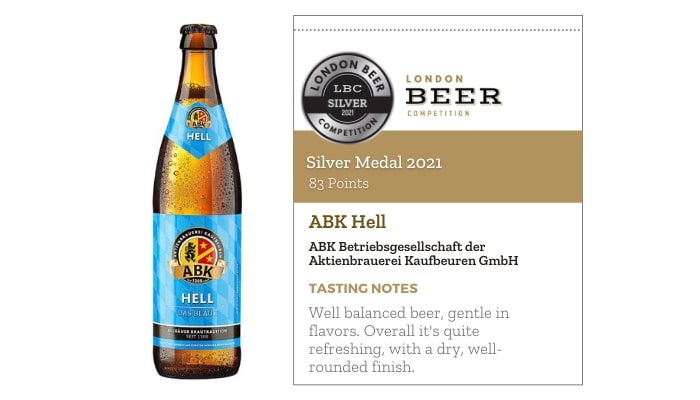 Light and bright combination of flavours is what makes this German beverage so satisfactory. Light golden bubbles with a medium white head that consistently shrinks on the base of thin lace of foam, the fragrance is an aromatic experience that subtly settles with a touch of floral hops and compliments the after taste and leaves the essence of pine and herbs which helps the sweet finish. In all the beverage has an exciting factor that keeps increasing with every sip.
Tasting notes: Well-balanced beer, gentle in flavours. Overall it's quite refreshing, with a dry, well-rounded finish.
To top it all the ABK Hell has also claimed its way to the top by claiming medals in the London beer competition and has been in the list of German beers that stand on all the claims of being the best beer producers of the world.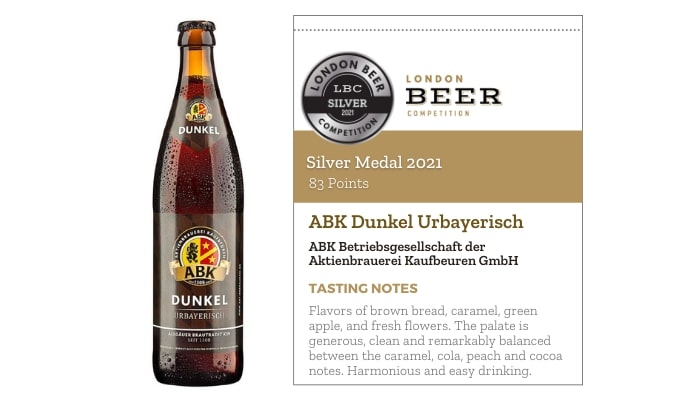 A gloriously dark and rich fruity aromatic drink that combines all the flavours to give the drinker an experience of drinking a divine beverage that has a hint of herbs and caramel with a touch of dark chocolate. The beer has a unique essence of Munich's iconic 'Dunkels' and we think that's the speciality of the German region breweries to experiment and still stay consistent on developing a better taste for the drinkers, and what better way to say it is a must-try and something worth exploring. Take our word on this.
Tasting notes: Flavors of brown bread, caramel, green apple, and fresh flowers. The palate is generous, clean, and remarkably balanced between the caramel, cola, peach, and cocoa notes. Harmonious and easy drinking.
The ABK Dunkel Urbayerisch has also been rewarded for its extremely exceptional taste by getting a medal in the London beer competition. Well, we called it.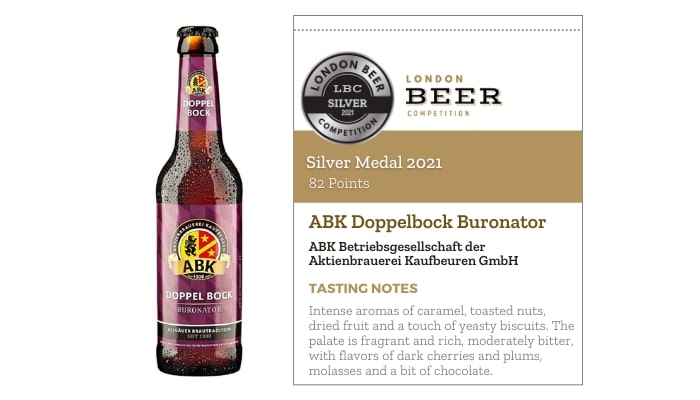 The due dark colour gives an appearance caused by the chill haze with Beige large-sized bubbles that makes the froth disappear quickly leaving only excellently malted beer. The fragrance has a touch of caramel and sweet toasted malts with an aroma of yeast. Gently moderate sweet to the bitter aftertaste that comes upfront with a hint of ripe dark fruits and subtly planted chocolate notes. A voluptuously sweet malty palate that has an essence of grape finishing, to give the drinker a taste of brilliance.
Tasting Notes: Intense aromas of caramel, toasted nuts, dried fruit, and a touch of yeasty biscuits. The palate is fragrant and rich, moderately bitter, with flavors of dark cherries and plums, molasses, and a bit of chocolate.
The ABK Doppelbock Buronator was served justice by rewarding them with the medals for their brilliant taste and thus landed on the list of must-try.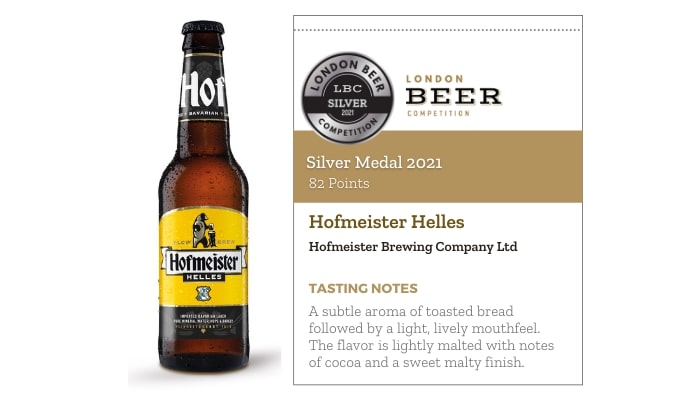 A bavarian lager that stands true and authentic to its nature and slowly brewed with an addition of mineral water, having the hops of Hallertau and local barley to give this beverage a snappy finishing while giving a strong aroma of herbs, and making it a beer you most definitely crave for after you once get a taste of it.
Tasting notes: A subtle aroma of toasted bread followed by a light, lively mouthfeel. The flavour is lightly malted with notes of cocoa and a sweet malty finish.
The Hofmeister Helles has also been a winner in the London beer competition considering its authenticity making it remember for its overall persona.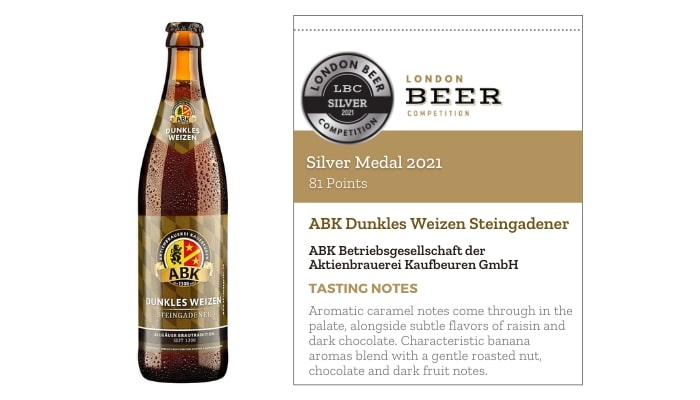 With an aroma of an overly ripe Mango, Peach, Orange, Grapefruit and a floral touch with a hint of grass the flavors of this German beverage are combined with a sweet, fruity, juicy, and slightly bitter taste that works like a magical implosion of contrasting fragrances. The feels in the mouth are that of a standard fruity finish with fluffy essence. The uniqueness of the drink hooks anyone in the first consumption, tasty enough to not make you settle for just one bottle.
Tasting notes: Aromatic caramel notes come through in the palate, alongside subtle flavours of raisin and dark chocolate. Characteristic banana aromas blend with gently roasted nut, chocolate, and dark fruit notes.
The ABK Dunkles Weizen Steingadener is yet another award-winning beverage from the ABK Betriebsgesellschaft der Aktienbrauerei Kaufbeuren GmbH tells us that there is much more to try and to have on your shelf.
10. Secret Idaho New England Pale Ale by Higgins Ale Works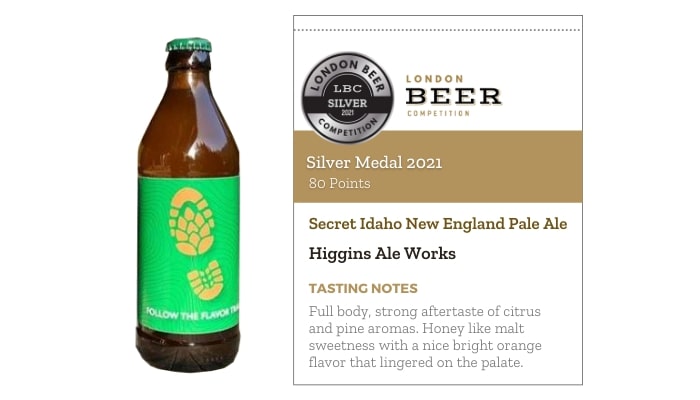 A full-bodied beer that has an aftertaste of citrus and pine aromas that help the finishing of the beer with white froth. The excellent combinations of bitterness and sweetness are what a successfully experimented beverage stands for and when it's this German beverage, the taste and ingredients compliment each other while subtly settling for the wonderful tasting experience. The Honey malt sweetness with a hint of bright orange essence of the beverage on the palate settles well with the overall experience that this beer has to provide.
Tasting notes: Full body, the strong aftertaste of citrus and pine aromas. Honey-like malt sweetness with a nice bright orange flavour that lingered on the palate.
The Secret Idaho New England Pale Ale worked the wonders on the judges reviewing this masterpiece and claimed the medal in the London beer competition.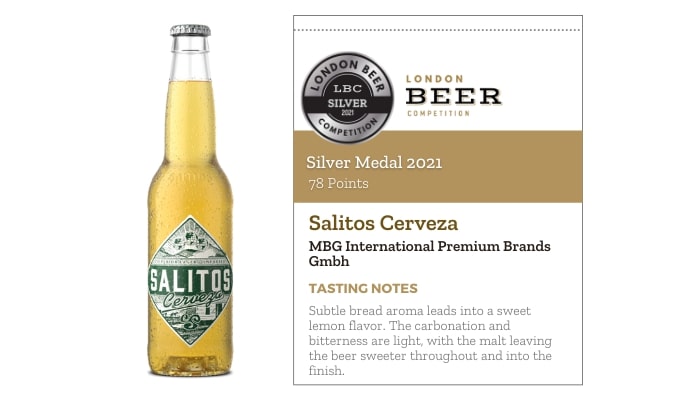 The lemon hints in the aroma with a bright sweet addition to the drink make the drink settle well with the taste and the mixture of sweetness and bitterness that come out as an aromatic experience for the aftertaste. This tells us a lot about experiments gone right, with a beautiful consistency, always getting better. Well in layman's terms this beverage is definitely a masterpiece to add to your list to drink.
Tasting notes: Subtle bread aroma leads into a sweet lemon flavour. The carbonation and bitterness are light, with the malt leaving the beer sweeter throughout and into the finish.
This Salitos Cerveza is a winning beer in the London beer competition and thus carries the title of Germany being the best when it comes to beer producers very gracefully.
The German beverages mentioned in this list of must-try beers were all the winners in the London Beer competition 2021 and have successfully been continuing the legacy of Germany being the best when it comes to beer.