Revealed! The Top 10 Award-Winning Beer Brands of 2021
19/05/2021
Expand your beer collection with the top beer brands of 2021 that walked away with a top medal at the recent London Beer Competition.
With the best selection of beers in stock, the only question is which will you start with? Well, our professional judges who are UK's best cicerones, beer buyers, breweries, and beer experts have personally analysed these beers the way beer drinkers do. They have assessed the quality of the below brands and also given honours based on presentation and value for money. We assure you that our top 10 beer brands are the ones that the industry wants to list.
Make sure you get your hands on these beers if you ever find one in a store near you.
1. Abbatiale Genièvre de Houlle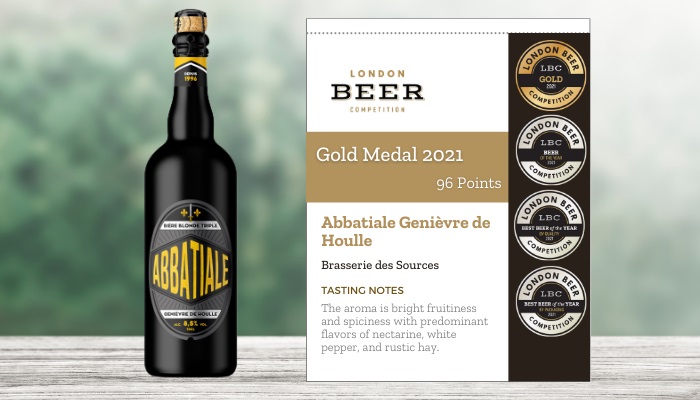 Exclusively produced in France by Brasserie des Sources, Abbatiale Genièvre de Houlle was voted as the Beer of the Year, Best Beer By Quality, Best Beer By Packaging and Gold with 96 points.
This award-winning beer is made with a generous amount of herbs, juniper berries, and a hint of Houlle's juniper. It undergoes a second fermentation in the bottle, which enhances its distinct flavour. This elixir has a faint flavour and is kept in an opaque container to keep it safe from light when ageing in the cellar.
Tasting notes: The aroma is bright fruitiness and spiciness with predominant flavours of nectarine, white pepper, and rustic hay.
2. Ikat DDH DIPA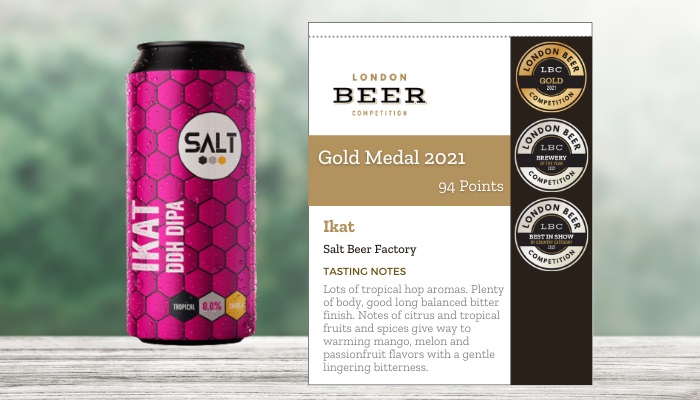 Ikat DDH DIPA produced by Salt Beer Factory has been named the UK's Best Beer of the Year with a score of 94 points. This gold medalist is a full-bodied beer with bags of tropical character. You can expect fruit flavours like guava, mango, passion fruit and lychee which make way for mellow notes of honey with a smooth but bold finish. Also, acquiring the highest average score for its beers, Salt Beer Factory snatched the 'Brewery of the Year' award at the 2021 London Beer Competition.
Tasting notes: Lots of tropical hop aromas. Plenty of body, good long balanced bitter finish. Notes of citrus and tropical fruits and spices give way to warming mango, melon and passionfruit flavours with a gentle lingering bitterness.
3. Great Skanderborg - Castrum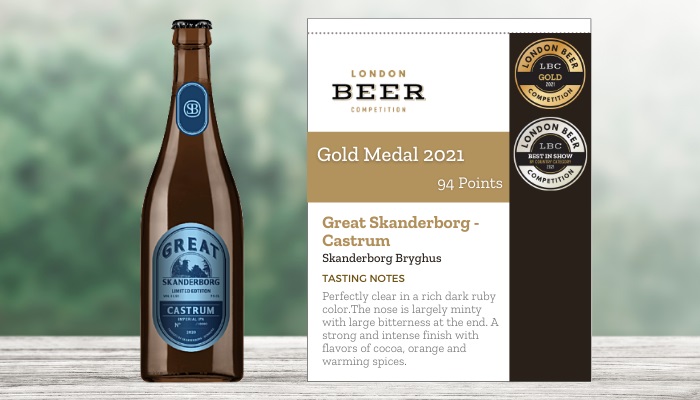 Produced in Denmark by Skanderborg Bryghus, Great Skanderborg - Castrum secured Best In Show By Country and gold awards with a total score of 94 points. This Strong American Ale beer is brewed with high-quality organic barley malt, and the taste, aroma and nuances are cherished.
Tasting notes: Perfectly clear in a rich dark ruby colour. The nose is largely minty with large bitterness at the end. A strong and intense finish with flavours of cocoa, orange and warming spices.
4. Tripel Karmeliet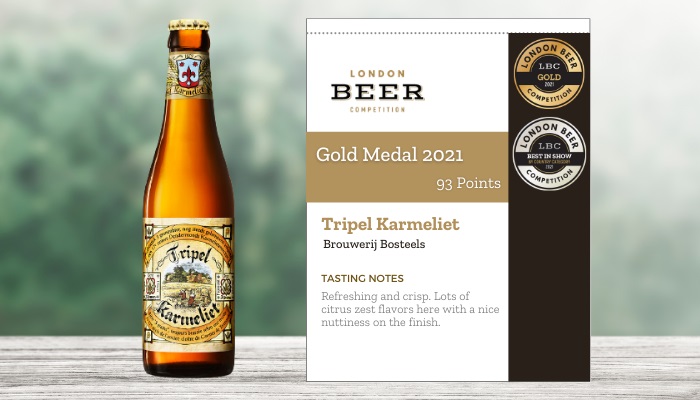 Produced by Brouwerij Bosteels, Tripel Karmeliet has been crowned Belgium's Finest Beer at the 2021 London Beer Competition. It has grabbed Best in Show by Country along with a Gold Medal with a total score of 93 points.
This award-winning beer is brewed using a 3-grain recipe rediscovered from the 1679 Carmelite monastery. This classic golden Belgian Tripel gives rich golden colour, with a very refined look and creamy white foam. The flavours give us freshness from the wheat and a creamy mouthfeel from the oats.
Tasting notes: Refreshing and crisp. Lots of citrus zest flavours here with a nice nuttiness on the finish.
5. Science of Sour Ale Brewing-XII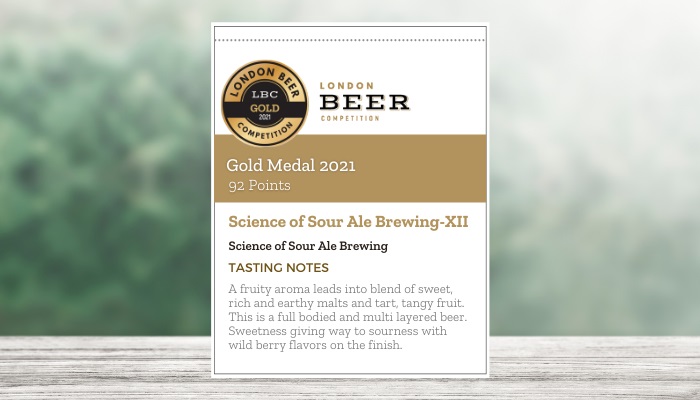 Another award-winning beer, produced by Science of Sour Ale Brewing, Science of Sour Ale Brewing-XII was awarded a gold medal by our professional judges based on its quality, value and packaging.
Tasting notes: A fruity aroma leads into a blend of sweet, rich and earthy malts and tart, tangy fruit. This is a full-bodied and multi-layered beer. Sweetness giving way to sourness with wild berry flavours on the finish.
6. Hyperbola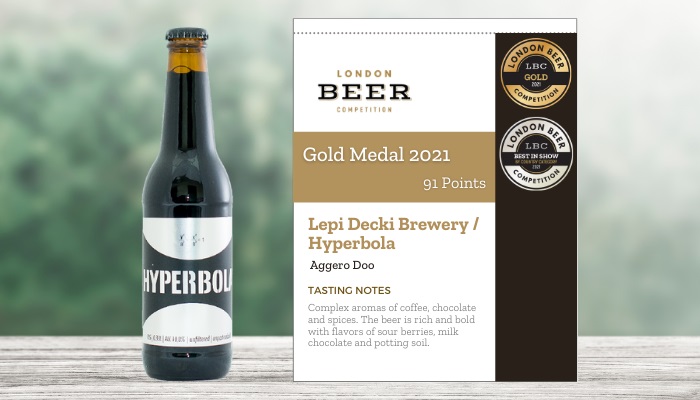 Taking the trophy of the Best Beer by Value, Lepi Dečki Brewery's Hyperbola also won a gold medal with 91 points. With a perfect combination of chocolatey, dark, this Croatian beer is sweet but at the same time bitter and can be paired with desserts, especially chocolate ones.
Tasting notes: Complex aromas of coffee, chocolate and spices. The beer is rich and bold with flavours of sour berries, milk chocolate and potting soil.
7. Porter Baltycki Trzech Kumpli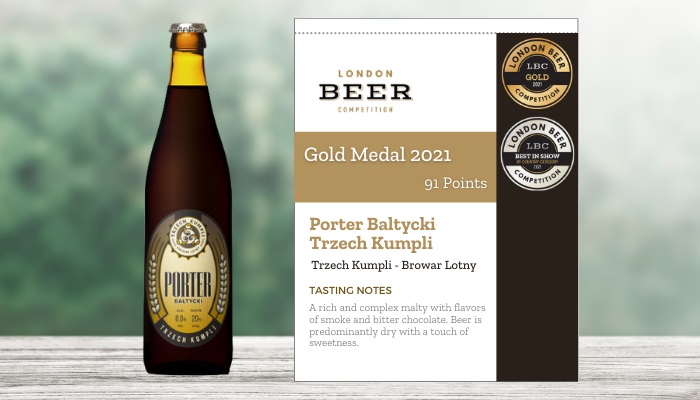 Voted as the best Polish beer Porter Baltycki Trzech Kumpli is produced by Trzech Kumpli - Browar Lotny. The beer also grabbed a gold medal with an impressive score of 91 points. This award-winning beer is a Strong European Beer with aromas of nuts, chocolate and caramel, this beer gives you a warm feeling.
Tasting notes: A rich and complex malty with flavours of smoke and bitter chocolate. Beer is predominantly dry with a touch of sweetness.
8. Alpaca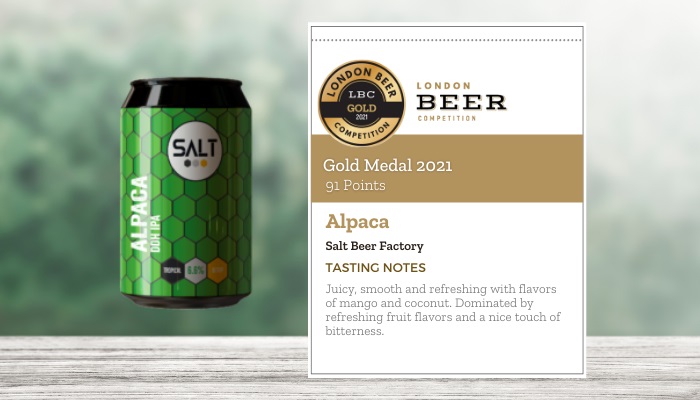 Here's one more gold medalist from the UK's Salt Beer Factory. The gold medalist Alpaca is a DDH IPA that is as high-end and extravagant as the animal's fibre. On the nose, expect heavy tropical hop aromas. Guava and melon flavours emerge first, accompanied by the introduction of honey from the malt. The tropical fruits are crisp and punchy, and the dry, bitter finish is well-balanced.
Tasting notes: Juicy, smooth and refreshing with flavours of mango and coconut. Dominated by refreshing fruit flavours and a nice touch of bitterness.
9. La Dark Soul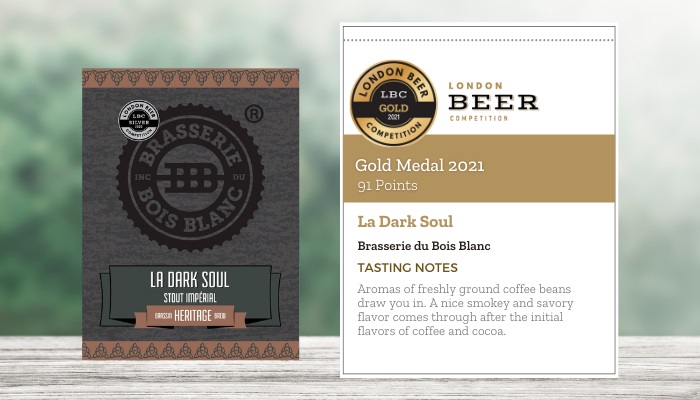 Our second-time winner from Canada, La Dark Soul nabbed a gold medal with a total score of 91 points. The La Dark Soul beer produced by Brasserie du Bois Blanc. This American Porter and Stout is a perfect combo of dessert, with a little piece of dark chocolate. The brewers recommend pairing this beer with red meat, dark chocolate & desserts.
Tasting notes: Aromas of freshly ground coffee beans draw you in. A nice smokey and savoury flavour comes through after the initial flavours of coffee and cocoa.
10. 1820 Porter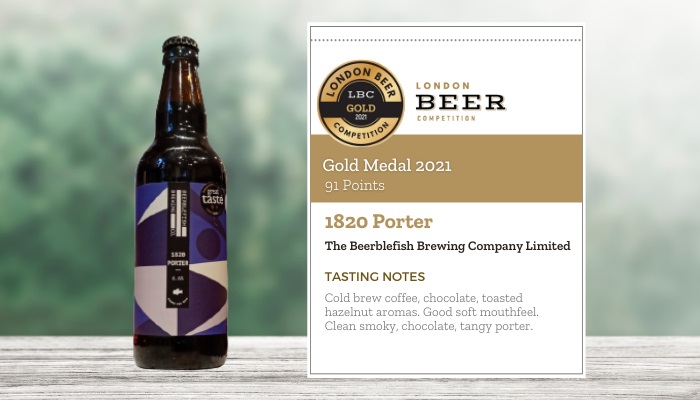 Scoring 90 points at the 2021 London Beer Competition, 1820 Porter by The Beerblefish Brewing Company won a gold medal. Built on an 1800s recipe, this award-winning porter is absolutely packed with chocolate and coffee notes. The ingredients used in processing the beer are water, malted and roasted barley, wheat, hops, yeast, B. claussenii. Instead of using roasted malts in this ale, the brewers use chocolate malt and wheat to give it a smooth, rich flavour.
Tasting notes: Cold brew coffee, chocolate, toasted hazelnut aromas. Good soft mouthfeel. Clean smoky, chocolate, tangy porter.