Digital Marketing Musts For Your Beer Brand
30/12/2020
Looking to market your beer brand? Here are digital marketing musts for your beer brand.
It's pretty evident that the beer market in the UK is quite a large one. The number of brewers in the UK has grown by over 64% in the last 5 years. Over 300 began new breweries in 2016, taking the number to over 2,000 for the first time since the 1930s.
Everyone including millennials, gen Z, and baby boomers enjoy a pint now and then - some more often than others, as do I (sometimes a little more than one should).
One might think that with the high demand for beer in the UK, it will be easier to sell right? But let's keep in mind that yes, of course, demand is high - but new breweries and beer brands are also popping up everywhere. So how is your beer going to be the one customers grab off the racks, or end up ordering at the pub?
Allow me to welcome you to the world of digital marketing. I'm sure you already know what digital marketing is. I mean, who doesn't? Scrolling through social media and websites has become a way of living for most of us - and I'm guilty of the same too. However, thanks to social media and other digital platforms, advertising and marketing have become very accessible to even smaller brands with a budget.
Let's take a look at a couple of digital marketing musts for your beer brand. It's important, trust me.
Branding is key
Before you delve into digital marketing to bring people to your side, you need to grab their attention - and branding is the perfect way to do it. You can brew the best beer across the UK, but if your branding isn't up to the mark, then none of it will matter anyway. While people enjoy good beer, they also enjoy a good story. Keep in mind that customers will always want an experience to remember or something to relate to - yes, even in a pint of beer.
Developing your brand identity starts with what you want to communicate to the consumer, and how you're going to do it. So the first step towards creating your brand identity is to figure out what you want to convey to the beer lovers out there. Once you know what you're going to communicate, then the next step is how you're going to do it.
From what I've learned over the years, there are two main ways to convey to your customers what you want them to know.
Make sure your logo speaks out
Your logo should speak what you want to communicate and make sure that it's easy to remember. A logo is what is used in determining branding of everything that goes out, that's related to a brand. In simpler words, your logo should be something that anyone would look at and remember that it's your brand's logo.
Your branding has to be constant throughout
If you're using yellow packaging for let's say your craft lager, then make sure you advertise, market, and brand everything around that beer with the colour yellow. Again, just like the logo - people should be able to remember your packaging.
Anything else which has to go out from your end, like signage, business cards, menus, and adverts should have your constant branding material to drill your beer brand in the consumer's mind.
Attractive website
If you don't have a website for your brand yet, then what are you waiting for? I'm assuming most of you have a website, but is it attractive enough? Is it easy for consumers to run through? And is it interactive?
People like to have fun, whether it's in real life or on the internet. If your website is inviting and fun to use, then you're more likely to get a higher number of leads through your website - whom you can convert into consumers with your impeccable pint. Here's what you can do to make your website a little more inviting:
Keep moving frames and gifs which make people play around the website.

Have all your information on the website including beer prices, where they can find your beer, and other things anyone would need to know.

Place your social handles on your website. Redirect people to your social accounts where you can show off your beer and brand (we'll get to this soon… so don't leave yet)

Quizzes and games on your website will keep the viewer engaged and once again, it will drill your beer brand in their heads.
Now that you have your website, remember that you have to keep it maintained and updated. Without maintenance, even the best websites see their downfall - so make sure you come up with a website management plan to keep things updated and in check.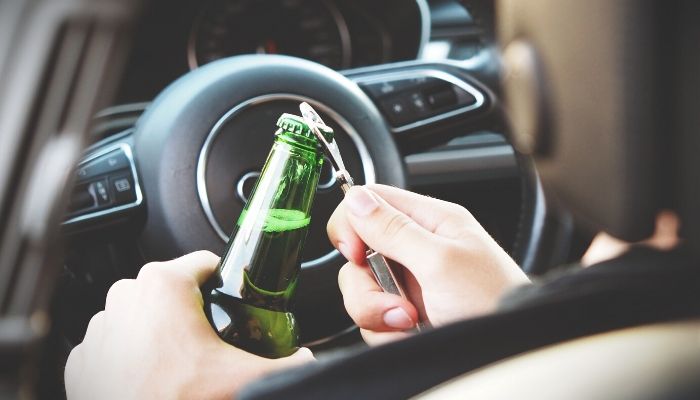 A person about to open a beer bottle
Social media
This is the holy grail of digital marketing. Everyone who's anyone has a social media account that they scroll through during their free time, or even during business hours. Social media is used for everything now, so why not your beer brand?
---
Check out these 15 ways that breweries can support their pubs and bars.
---
I mean, I know when I scroll through my Instagram feed at night and come across something that appeals to me, I end up buying it - or saving it for later. Which is exactly what you need to get your audience to do with your beer.
The first step to attracting people to your social media is having high-end photography and creatives. Real images of people enjoying your beer will always work better than some set up on a wooden board. When consumers see others enjoying your beer, they're more inclined to grab one themselves the next time they're at an M&S or in a pub.
The majority of the population in this day and age are very much involved in what's going on across the globe. This is a great way to support the issues around the world and to also relate with your consumers. Create campaigns that show your beer brand supporting what's going on, and make sure that you do support those causes. Your supporting issues will have the beer drinkers supporting you.
People love to see what's happening behind the scenes - and that's exactly what you need to show them. Use social media to show off your ways of production, packaging, and what's happening at your brewery. This will engage the audience, and make them more inclined towards your beer brand. Give them an experience, and they will only come back for more.
Yes, gaining an organic reach is important, but you have to invest in a little bit of paid advertising on social media. Run google ads, boost your Instagram posts, run ads on both Facebook and Instagram to get a larger reach whom you can target.
One way to engage your audience on your social platforms is by creating contests. You can have people posting videos of them drinking your beer, and the best video wins a case of beer. There are lots of other contests to engage your audience in. If they feel like they are a part of your brand, then nothing will stop them from picking your beer.
If you don't know this already, let me tell you, influencers are HUGE. People tend to follow what influencers are doing, eat what they're eating, but what they're buying, drink what they're drinking, wear what they're wearing - well, you get the gist. Remember when Stella Artois brought out the drinking Chalices? They made a huge campaign with social media influencers, promoting the Chalices for a good cause. So remember, reach out to influencers who can help promote your beer brand.
So tell me, when are you going digital?
---
Click here to learn how to find a beer importer in the UK.
---