Deadline
September 30, 2023
Enter Now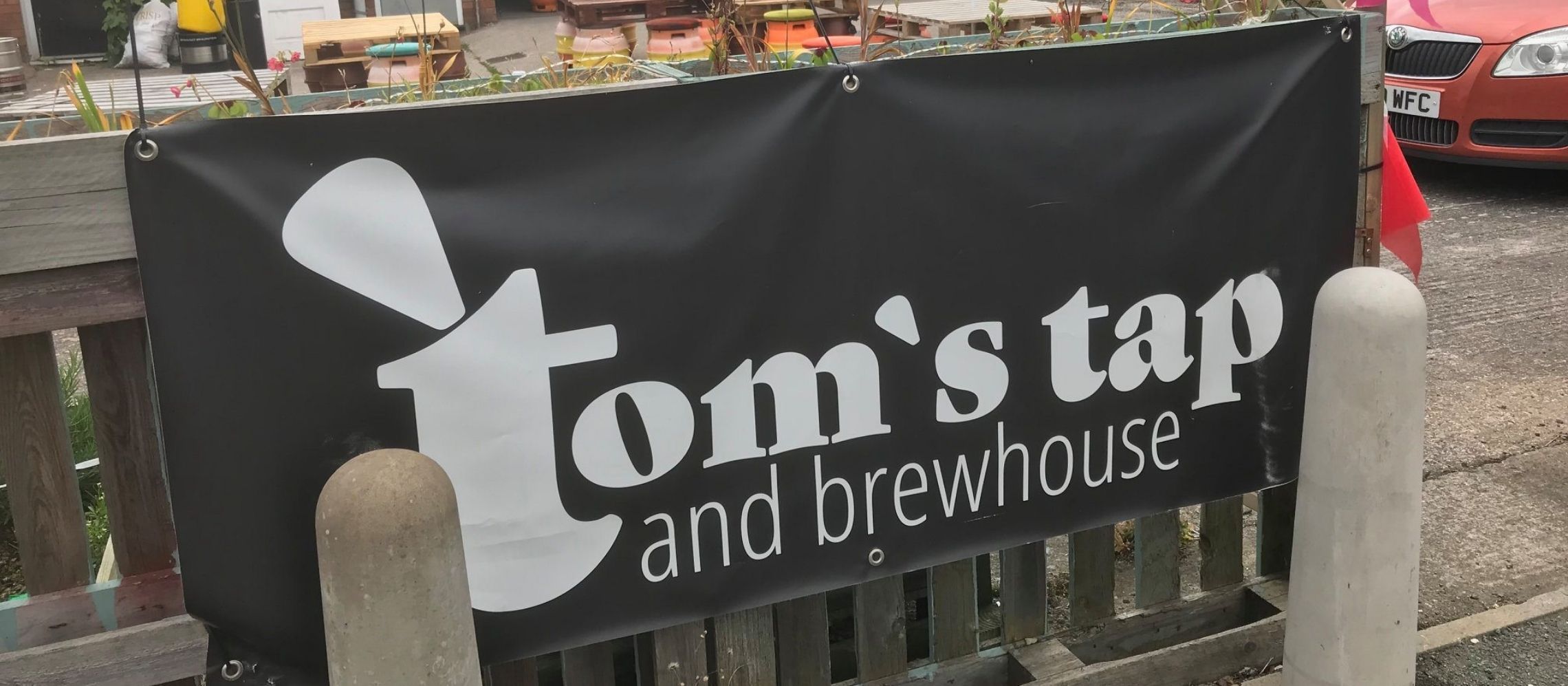 Beer Essentials: Building a Community Taproom
At Tom's Tap and Brewhouse in Crewe, husband-and-wife team Sean and Jacqui Ayling have built a formidable community. We find out how
"When we refurbished the taproom, we didn't have to get any tradespeople in - our regulars helped us out. That was fantastic"
Sean Ayling, co-owner of Tom's Tap and Brewhouse, has always been a big believer in small breweries owning taprooms; if you make fewer than 4000 hectolitres a year, he says, you'd better sell a big chunk of it directly to the customer yourself. At his previous brewery, Pig & Porter in Tunbridge Wells, Kent, he and business partner Robin (CHECK) spent fruitless weeks looking for somewhere affordable in the surrounding, very expensive, area.
[[relatedPurchasesItems-40]]
So when a site in Crewe became available in 2018, he and wife Jacqui were very interested. Michelle Shipman from Offbeat Brewing was looking to get out of brewing, and the deal was done by early summer. Tom's Tap and Brewhouse was born, and in the years and months since - Covid notwithstanding - they've built a strong community around their taproom. We spoke to Sean to find out how they've done it.
You don't get much passing traffic, do you?
"You've got to know [the taproom is] there.That's why the community aspect of it is so important, really - you're not on a High Street where people will walk past and think 'I'll go for a beer'. We still have people who have lived in Crewe all their lives who come in and say 'I had no idea this was here'.
"Crewe is a bizarre town, in one way at least. The Railway Station is a long way from the town centre, and the town is divided by railway lines, which are crossed by various bridges. Some people, you tend to find, don't cross the bridges - they stay on their side. That's why we got involved recently with the Crewe Beer Crawl, which connects the six craft pubs and taprooms in the town. That links us up and ensures we all get a slice of the pie when people are out on a Saturday or Sunday afternoon."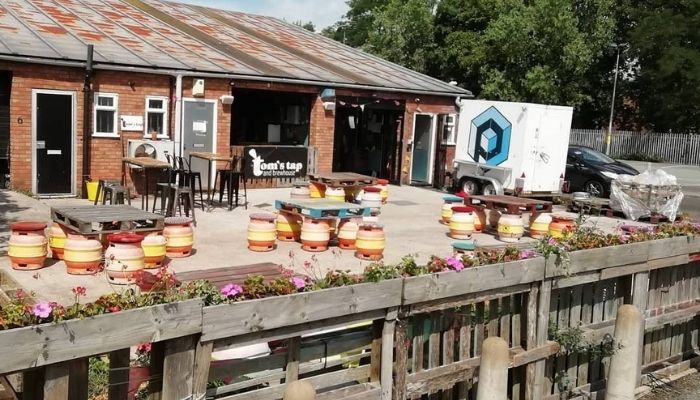 Tom's Tap and Brewhouse in Crewe
So what sort of clientele do you have?
"I would say the only people we don't get are very young - apart from that we get everyone, from people in their thirties up to those in their seventies and eighties. We adopted the Everyone Welcome initiative very early, which has been useful for us as it's the first time we've run somewhere, although we've worked in pubs all our lives. We use the phrase LGBTQ inclusive in our bio on Google, so our crowd is definitely diverse in terms of gender and sexuality.
"It's a great crowd. When we started to do the refurb, we didn't have to get any tradespeople in - the locals helped us out. That was fantastic."
Unlike a lot of small breweries, you keep your website regularly updated. How important is that?
"I do make a particular effort to keep it up to date, because not all of our customers are on social media. It's easy when you're a small business to really rely on social media because it's free; you tend to forget that people have got a bit fed up with Facebook. You can't put all your eggs in one basket. We have a mailing list - I'm actually terrible at keeping up to date with that - we do social media, we do flyers, we try to be in the local press as much as possible."
You host a lot of events, too.
"What I've realised is that there's been a prohibition-type effect with the two lockdowns that we've had. Whereas before it was a case of, you could be open and people would pop in for a drink, now people have got used to drinking at home. Other people are still not comfortable coming out at the moment - so you have to give them a compelling reason to come.
"Our taproom is never going to win a beauty contest - of course, you'll get a warm welcome, but we try to make Thursdays and Sundays the days when things happen. We do a lot of Meet the Brewers on Thursdays and Fridays. Our premises are actually over three units, with the brewery at one end and the taproom at the other. In the middle we've got a space with a small stage, where we have a bit of live music, a bit of open mike. It's very important to do all this - if we didn't, we feel that people wouldn't come out."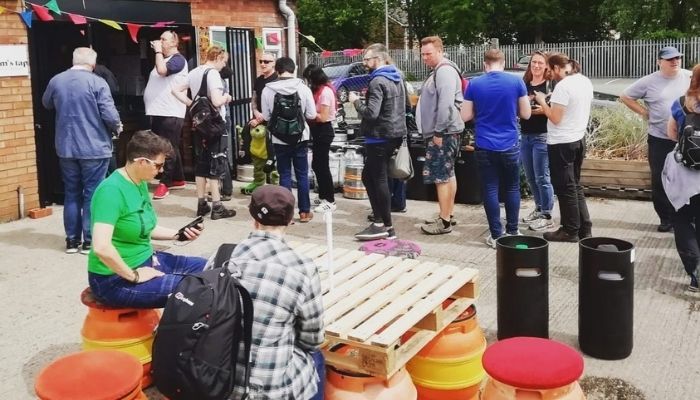 A Crowd Pleaser Taproom
How do customers respond to taprooms? They're obviously very different to pubs …
"Some people really like the idea of a roaring fire and a pint of cask ale and that's not what we do. Other people love the thought of supporting something small and independent, something not homogenised. And we don't have too many great pubs around us, with the exception of the Borough Arms, which has great beer."
Tell us about your collaboration with Mornflake, Crewe's oldest company
"They're the oldest business in Crewe, and the fourth oldest in the UK. When we first arrived here I wrote to them, saying - 'you're the oldest company in Crewe, we're the newest, how about we do a collaboration?' I thought, they're a big company, I might get a reply in six months - but I got a reply the next day.
"They sent their PR team down to photograph the brew day, it got in all the local papers, and - as I didn't have a designer at the time - they designed the bottle labels for me."
You have excellent cider as well as your beer. How popular is that?
"We won Cider Pub of the Year this year, which was great. It's something that we've really focused on; Jacqui has been a cider drinker all her life and she's really fed up with poor showings from taprooms, which will have one cider and that's it.
"It helps us because you'll have a group of people where some of them will really like the beer, but some might prefer cider. Having a decent range is a good way of ensuring they stay for more than one drink."