O'Hara's Irish Stout Nitro proved dynamite at the London Beer Competition 2022
05/07/2022
Best Beer of The Year, Best Brewery of The Year and more accolades are claimed by the O'Hara's Brewery
At the London Competitions 2022, the best Beer sommeliers, Head Brewers and Cicerones of the country came together to recognize and reward more than 1000 participating beers on the basis of their quality, value and packaging.
Gold, Silver and Bronze medals were awarded alongside titles like Best Beer of the Year, Best Brewery of the Year, Best Beer by Packaging and so on.
BEST IN SHOW BY COUNTRY was claimed by O'Hara's Irish Stout Nitro with 91 points and a Gold Medal.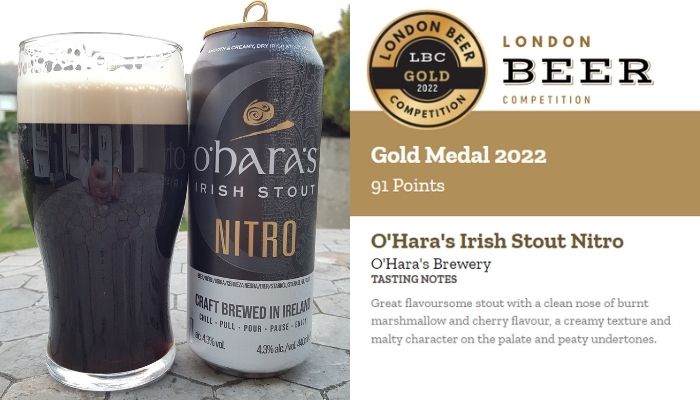 The Irish Stout Nitro is trademarked with a robus roast flavour complemented by a full bodied and smooth mouth feel. It is available in 440ml cans due to widget technology, which allows the drinker to experience the same brilliant cascading effect as a draught pour.
This beer has a deep black colour and a smooth creamy head.
[[relatedPurchasesItems-24]]
What to expect?
Great flavoursome stout with a clean nose of burnt marshmallow and cherry flavour, a creamy texture and malty character on the palate and peaty undertones.
This beer pairs well with seafood, particularly shellfish and smoked salmon. Flavoured cheeses and dry cured meats such as Parma ham are other options that work well.
The Nitro comes from O'Hara Brewery that brews traditional Irish Beers combined with their own international beer styles.
O'Hara is an independent, family owned business established in 1996, and one of the pioneers of Irish craft brewing located in the heart of Ireland's traditional malt and hop-growing "Barrow Valley" region.
[[relatedPurchasesItems-40]]
They have a wide range of beers including stouts and ales.
5 of them won Silver and Bronze Medals at the London Competitions, as follows -
Silver -
86 Points - O'Hara's Irish Red Ale
86 Points - O'Hara's Irish Stout
83 Points - O'Hara's Leann Follain
83 Points - O'Hara's Irish Red Nitro
Bronze -
72 Points - O'Hara's West Coast IPA
To check out their full range of original Irish beers, head straight to their bars - Brewery Corner or Urban Brewing.
Written by Stuti Khetan, Beverage Trade Network