Salt Beer Factory Wins Brewery of the Year - Via Los Angeles Drinks Guide
22/04/2021
Hailing from a UNESCO World Heritage Village, the Salt Beer Factory brings more laurels to Saltaire.
At the recently concluded 4th annual London Beer Competition, breweries from around the world displayed their craft with beers that brought something unique and delicious for the judges to sip and evaluate. While individual beers from multiple breweries showed merit and impressed the judges across the three criteria, one brewery stood head and shoulders above the rest because of its expertise and range of fantastic beers. Homegrown brewery from Saltaire, the Salt Beer Factory was recognized as Brewery of the Year.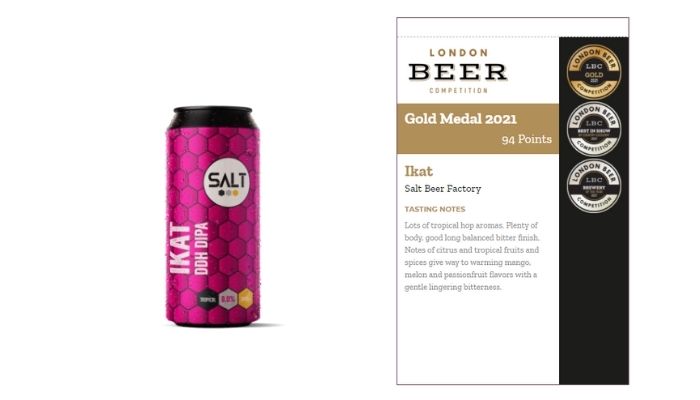 Ikat, Salt Beer Factory, Gold Medal & Brewery of the year
Salt Beer Factory was founded in 2018 post a meticulous planning process that took place over three years. The founders wanted to build a brand that was accessible and a proud representative of Saltaire, a UNESCO World Heritage Village. The purpose of Salt Beer Factory is to create craft beers that will impact people well beyond their taste buds. The progressive spirit that has driven the people at the brewery is the same as the 1800s when the mill was built by a pioneer of worker rights. Beer unites people and that is what the brand wants to take further.
2023 Submissions are now open. You can register your brands now to save £35 per entry with super early bird pricing that ends on September 30, 2022.