2023 Registration
London,uk
March 20 & 21
Closed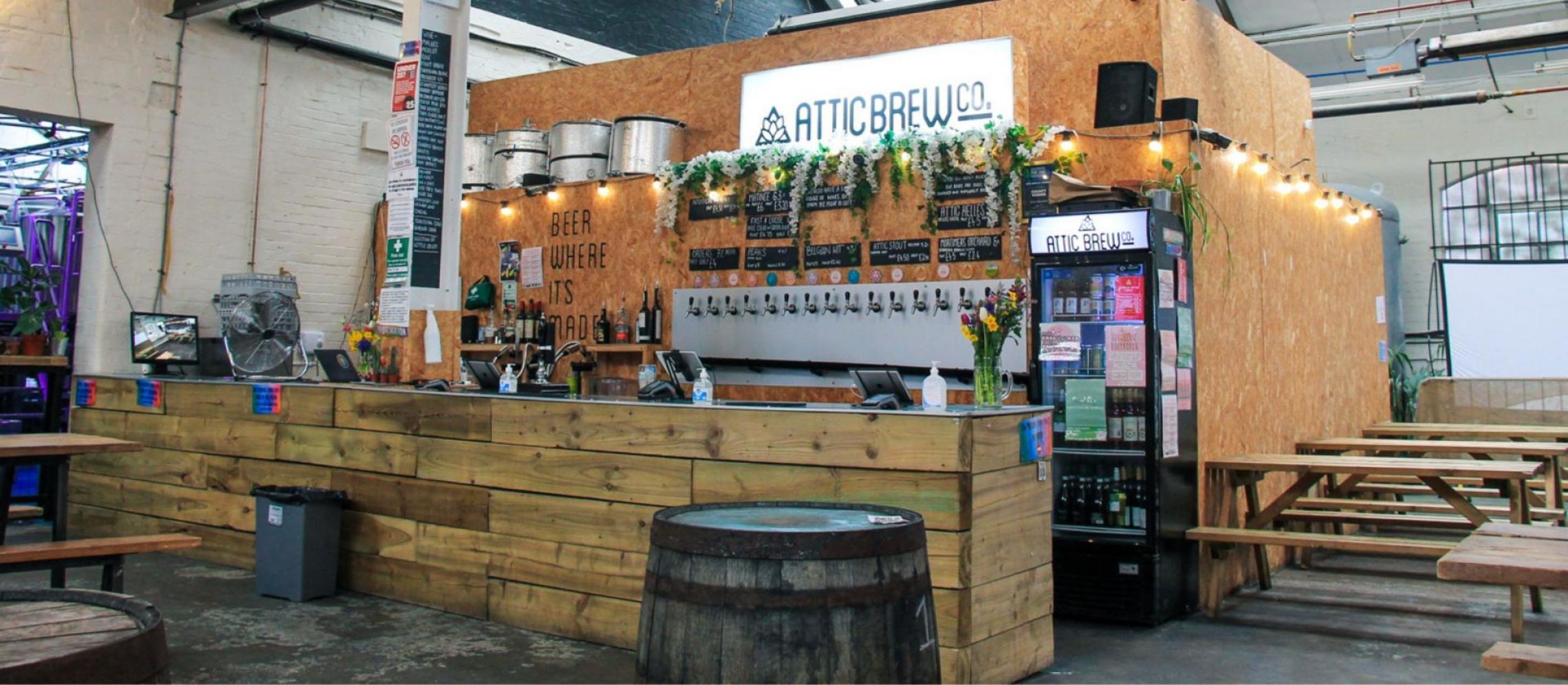 This 6 medal winning beer is everything you need to beat the heat this summer!
If you are into colourful craft beers then look no further. Attic Brew Co has a range of quirky beers that won hearts, and medals at London Beer Competitions.
Sam Fraise, Head Brewer at Attic Brew Co proudly introduces the brand saying "We are a very colourful bunch. We stand out and we consider our beer styles approachable and open to all. The colourfulness of our branding I hope reflects that!"
Attic Brew Co. was borne from a desire to see the beer scene in Birmingham grow to match the stature of the second city. Since opening in 2018, they have been a prominent part of the huge growth in Birmingham-brewed beer. Attic beer has also become a regular sight on taps across the city.
Their flagship beer, INTUITION, won 6 medals at London Beer Competition 2022.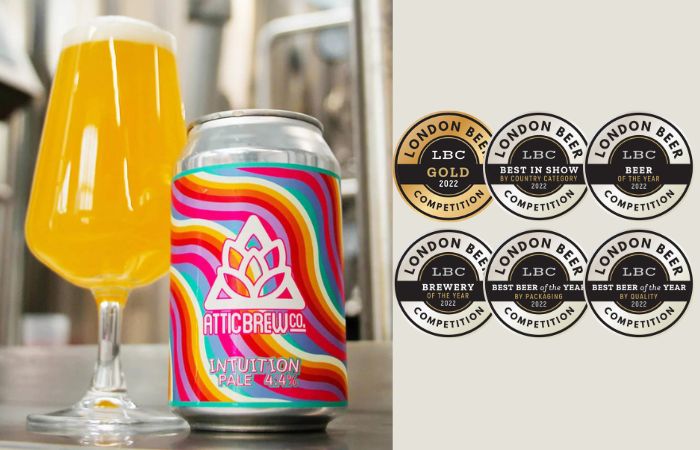 At 4.4% ABV, the esteemed judging panel was impressed by this hazy and solid pale.
Tasting notes :
Prominent grapefruit aromas, and other tropical fruits like mango, pineapple, peach on the nose. Sweet and bitter hops with little carbonation make it an unusual palate experience.
It is no wonder then, that Intuition won a GOLD, with a whooping 95 points, the highest amongst more than 1000+ participating beers.
[[relatedPurchasesItems-40]]
It also won the following awards :
BEST IN SHOW BY COUNTRY 2022
BEER of the Year 2022
Best Beer by Quality 2022
Best beer by Packaging 2022
It is Intuition Beer, that paved way for Atticus Brews to win the BEST BREWERY OF THE YEAR 2022 medal.
[[relatedPurchasesItems-24]]
Atticus Brewery is best known for its hop-forward pale ales and New England-style IPAs, but they do brew a wide range of styles to make sure everyone has a chance to enjoy their beer. They are increasingly interested in lager production and have always had a soft spot for classic Belgian styles. Key to everything they brew is balance and drinkability.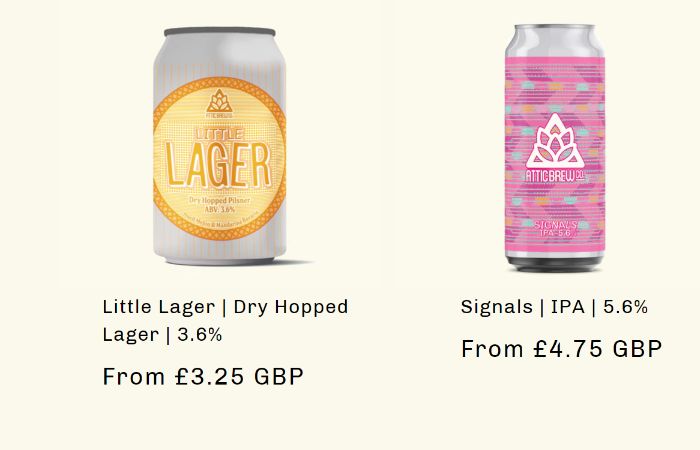 When the Head Brewer at Attic Brews Co, Sam Fraise was asked about his preferred beer from the range, he said -
"It's really difficult to choose a favourite beer from our range because they all have the ability to be my favourite at certain times. However I would say in general that Signals is my favourite, it has such a unique yet approachable taste and is absolutely packed full of flavour."
SIGNALS IPA at 5.6% ABV also won a Gold medal at 92 points.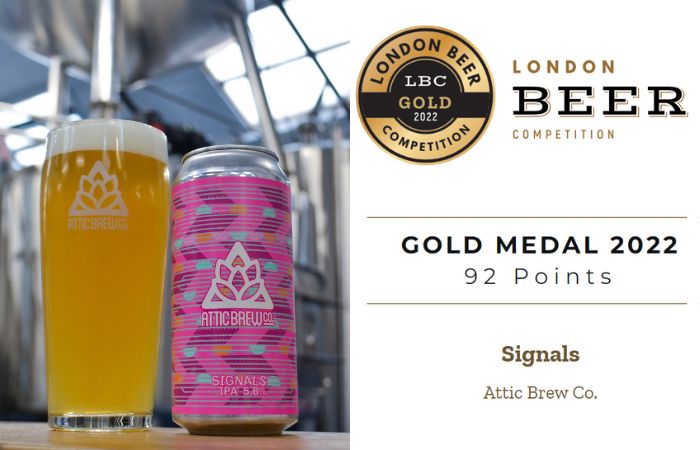 Tasting notes
Exotic floral aromas of parma violets along with some tropical hints of mango, peach, and grapefruit. A thoroughly light smooth well balanced beer with an acidic taste.
Grapefruit, orange and apricot flavours abound, with a little bitterness to give structure and depth.
Where to drink Attic Brew?
They have their very own TAPROOM!
No reservation required, you can just walk into this pet friendly zone, grab a table and head to the bar. Choose from their entire range of beers alongside an array of events including bingo nights, comedy gigs and sports matches.
"We are quite fortunate in that we have an on site tap room where people can come and drink our beers. We get direct feedback from customers that always influences the beers we brew." continues Sam.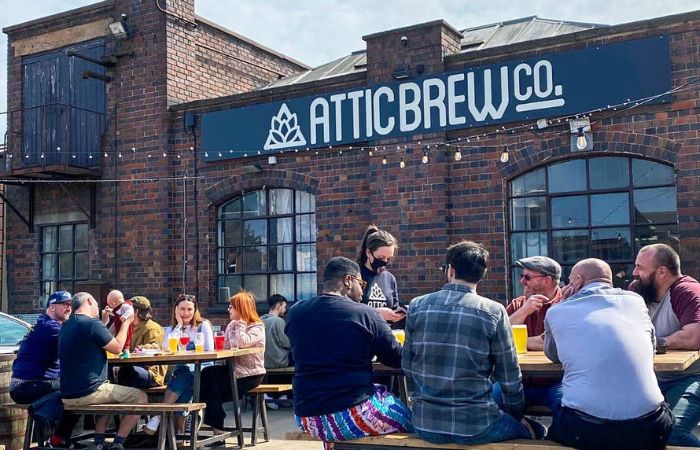 What are you waiting for?
Head straight ot Attic Brew Co, try their beers and let them know which one is your favourite!
Do take note of the timings before you visit the taproom for a colorful experience.
Address : 29B Mary Vale Road, Stirchley, Birmingham, B302DA
Please note : There is no parking at the site.
To catch other gold medalists and category winners, follow the links below -
London Beer Competition, London Wine Competition and London Spirits Competition
Written by Stuti Khetan, Beverage Trade Network